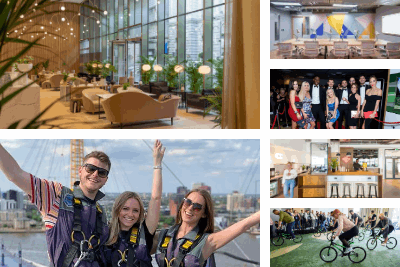 Why join Marks Sattin?
A rewarding career can transform a person's life. We have witnessed this from various perspectives; whether that be through developing and rewarding our employees, helping professionals to secure an opportunity that will add a new dimension of purpose in their lives, or indeed working with hiring managers who have, in turn, trusted us to guide their personal career choices. We understand that it is a privilege to be able to transform a person's professional life.
When you work with us, your commitment is well rewarded and we definitely know how to have fun! We make sure that there's plenty of opportunities to recognise each and every person who has contributed to our success by organising events where we can let our hair down and create lifetime memories. There's always lots going on such as pub quizzes, trips abroad, competing in Tough Mudder, climbing Mt Snowdon and who knows what's next!
Visit our Instagram
What we can offer you
We believe in our people, and instil values of autonomy, flexibility and progression. We operate an open door policy and encourage everyone to offer their ideas, suggestions and feedback, no matter how big or small. Our benefits are tailored to our people and encourage freedom to be ambitious and exercise entrepreneurial flair. If this sounds like somewhere you would like to work - get in touch for a confidential chat.
Gym at lunch or an appointment? We understand and value work life balance, and offer autonomy and flexibility to all our people.
We've got you covered! From a comprehensive health plan to learning and development, we want you to feel empowered to progress in your own way.
We love celebrating success together. We focus on integrating our specialist teams and regional offices by hosting various professional and social events throughout the year.
Our locations
Welcoming, motivating, flexible and fun! These are just some of the words used to describe what it's like to work at Marks Sattin, and our office locations echo this.
We operate across seven key co-working spaces in the UK and Ireland. Our London HQ is located in the beautiful Labs building in central Holborn. In Reading we work out of a Work.Life space in the renowned White Building with it's rooftop terrace and easy accessibility. In Surrey we are in the Regus building, a classy workspace.
Moving further north, our Leeds team have recently taken up occupancy in the new Spaces building on Park Row, a stone's throw from the city's hub. In Birmingham we are in Alpha Works, centrally located in the iconic Alpha Tower, one of Birmingham's well-loved landmarks. Our Manchester and Dublin offices have taken residence in WeWork spaces, both at the heart of their business districts.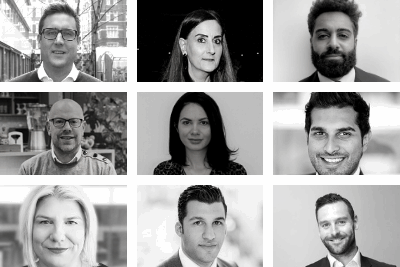 Meet our leadership team
Our people are what set us apart, and most of our leadership team have a long tenure with Marks Sattin, with the majority starting off as recruitment consultants, developing into directors and looking after multiple teams. Each person in our leadership team is unique with their own personal style, and we respect everyone's opinion and way of working. We aim to work collaboratively and learn from one another to continually develop and evolve.
If you would like to learn more about our leadership team - head over to our dedicated page.
Karen Chilton, UK & Ireland Talent Manager
"After a career spanning nearly 8 years as a Consultant through to Manager, I decided to make a change and recruit for the business I love! I am responsible for sourcing and hiring the best in class talent for Marks Sattin offices across the UK and Ireland. Talk to me to find out what it's like to work for us and what we may have available for you."
posts
Hear from our people
Boost for UK FinTech businesses
Summary
It is very pleasing to read all about the Chancellor's plans to boost and grow the UK's already thriving fintech industry , as published recently by GOV.UK. Addressing the matter at Fintech Week, the Chancellor, Rishi Sunak, spoke about how the UK will action many of the recommendations made in a recent independent Fintech Review Report , led by Ron Kalifa OBE. What do the ambitious plans include? Supporting growing firms and fintech hubs across the UK The Financial Conduct Authority (FCA) will take forward a ' scale box ', scale box is an extension of the sandbox program which has proved invaluable for allowing start-ups to test new propositions, and to provide a one-stop-shop for growth stage firms. Pushing the boundaries of digital finance The HM Treasury and the Bank of England have come together to establish ' Taskforce ', which will explore a possible UK central bank digital currency (CBDC). Two new forums are also being created to engage technical experts in this project. Reforms to listing and capital markets rules The Chancellor confirmed plans to support companies seeking to raise capital in the UK, including reviewing the prospectus regime. The prospectus regime aims to make it easier for companies to provide the information that potential investors need. In all, Rishi's announcement is encouraging news to recruitment consultancies that support high growth firms to scale up with access to high-quality talent. The plan to fast track visas for skilled people is also welcome news for the industry; there is already a shortage of candidates on the market, with many good candidates being shackled down by working permits that can't necessarily be granted at their new employment. The announced changes will remove these barriers and allow access to some exceptional talent across tech and finance. In light of Brexit, this will encourage not only for firms currently in the UK, but also European and other international firms to see the UK as a great location to set up. Marks Sattin will help you with your fintech recruitment needs If you are growing your fintech business and would like to discuss sourcing talent, please contact me directly. Alternatively, you can view our fintech job opportunities here .
Read full article

Our top three market highlights: the gaming industry, music investment and travel
Summary
Here's a summary of our top three market articles for March 2021: Lockdown boredom drives the UK video games market to a £7bn record high During 2020 the UK video games market has been fuelled by an unprecedented boom in the popularity of mobile games, consoles and VR headsets. This soaring demand can largely be placed with the increased need for at home entertainment during the pandemic. The result was a huge £1.9bn increase on money spent on gaming entertainment compared to 2019's figure. This boom in demand for entertainment has also prompted gamers exploring new technologies, such as VR. Meet music's most hated man—and he is the industry's top dealmaker In recent months, huge waves have been caused within the music and IP rights industry. Most music fans have never heard the name Merck Mercuriadis, CEO of Hipgnosis Songs Fund. But they may well be aware of the assets he's been aggressively buying up for the past three years. In just three years he has spent $1.8billion of investor funds buying the rights 60,000 songs. That includes thousands of songs, including some penned by veterans like Neil Young and Barry Manilow and others from newer artists like Ed Sheeran and Shakira. A year on from the first lockdown, what has become of travel? As lockdown restrictions are lifted and the roadmap out of the pandemic starts to take shape, people can begin to contemplate what holidays might look like in 2021. This article explores emerging trends around staycations and the growth of the UK adventure holidays. In tandem, the article also interrogates if cities will avoid over-tourism, if travellers will utilise electric travel to avoid airports and what people want from a post-pandemic holiday.   If you are a newly qualified ACA, why not join our growing community and receive updates of informative insights and blogs, as well as exciting opportunities that will relate to your background and ambitions.          
Read full article

Achieve better engagement on your FinTech job applications
Summary
In 2021, 68% of businesses are prioritising recruiting candidates directly to their companies. However, this is not always best for the jobseeker and their candidate experience. In some cases, the disruption in the economy, caused by the COVID-19 pandemic and the increased volume of job applications has led to an absence of feedback during the recruitment process. I speak with many people who feel frustrated due to the shortage of responses and lack of meaningful feedback, both from recruiters and direct applications and interviews. Below we have detailed a great strategy on how you can achieve better engagement from organisations after applying for a vacancy. Make yourself known   If I was to ask any hiring manager, "what are the top three qualities you look for in a candidate?" Most of them would say: A positive attitude towards workA good cultural fit for the business and the teamSomeone who is keen to get stuck in to a project or business So, before you apply for a role, identify the business' website and social media pages and ascertain the business culture and think about what you can contribute. Next, find the relevant hiring manager or a person from the talent acquisition team. Send them a message on why you would like to work there and why you believe you are a good fit for the role. Use Glassdoor, LinkedIn and relevant FinTech articles to inform your message. Look at what they are working on and ask yourself - how could I add value? You don't need to cover every point, but make sure it is relevant and appropriate. This tactic will show that you have a positive can-do attitude, you are passionate about your work and you're engaged with their business. This will increase the likelihood of them meaningfully engaging with you in the application process. Ensure your CV is the best it can be Producing a stand-out CV could be a whole article on its own! But we do have some straightforward tips for you to get started: Always use job descriptions to tailor your CV for the role you are applying for. Use the job description to cover off relevant experience, key achievements and highlight your essential skills.Job applications are not a numbers game. To increase the chances of hiring managers engaging with you, focus on producing a high quality application as opposed to a high volume application.Make sure your CV is easily readable. Time is precious to hiring managers, meaning most CV's are reviewed promptly, so make sure it is formatted appropriately and you have checked the document thoroughly for any mistakes.You should clearly bullet point main details and key achievements. This means that essential factors are not missed.  Credibility- it's a powerful thing! CVs, applications and interviews are an opportunity where you can demonstrate the skills you have. Anybody can say they are an expert in something, but how many people go far enough to prove it?  Use statistics, previous performance reviews, LinkedIn recommendations and GitHub to evidence and embed your credibility. This will increase the likelihood of them engaging with your job application." Ensure you're prepared for the interviewAgain, this is something I could spend some time going in to detail explaining. However, a few key points would be:What's their innovation?Who are their competitors? When were they founded?Who is conducting the interview? What is their background? You may be asked directly what research have you conducted. So, if you can demonstrate knowledge on their market, you will be showing initiative and where you can add value. Close the interview like a Pro Every interview ends with your chance to ask questions. People always remember a good closing question! This gives you the opportunity to gather all the information you need to make a decision on whether you are interested in the role. Ask what you need to, but take this as an opportunity to build rapport. If they haven't covered it already, ask them: How long have they worked for the business?How have they found it, compared to their previous employer? Rapport is a key tool in your arsenal, we all want to work with people we find pleasant. I would also prepare other questions including: challenges they face in the role currently, what are the key factors they are looking for from this person?  Follow up In the wise words from my mum: "manners cost nothing". Following an interview, an email thanking the hiring manager for their time, the positives you have taken away and why you think you're a good fit for the role is a nice touch that will make them remember you. It is key to remember you are representing your own brand. You should make an effort to leave a positive impression; one impression can be a hundred impressions. The FinTech community is small and people talk. I have plenty more tips and tricks up my sleeve, so feel free to contact me for advice on how to secure your next FinTech role and keep an eye on our website, we have new vacancies coming in daily!
Read full article