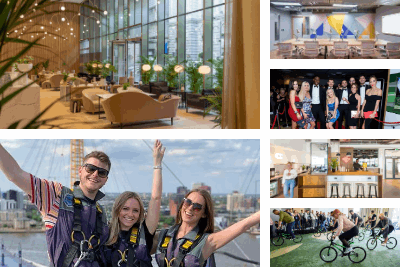 Why join Marks Sattin?
A rewarding career can transform a person's life. We have witnessed this from various perspectives; whether that be through developing and rewarding our employees, helping professionals to secure an opportunity that will add a new dimension of purpose in their lives, or indeed working with hiring managers who have, in turn, trusted us to guide their personal career choices. We understand that it is a privilege to be able to transform a person's professional life.
When you work with us, your commitment is well rewarded and we definitely know how to have fun! We make sure that there's plenty of opportunities to recognise each and every person who has contributed to our success by organising events where we can let our hair down and create lifetime memories. There's always lots going on such as pub quizzes, trips abroad, competing in Tough Mudder, climbing Mt Snowdon and who knows what's next!
Visit our Instagram
What we can offer you
We believe in our people, and instil values of autonomy, flexibility and progression. We operate an open door policy and encourage everyone to offer their ideas, suggestions and feedback, no matter how big or small. Our benefits are tailored to our people and encourage freedom to be ambitious and exercise entrepreneurial flair. If this sounds like somewhere you would like to work - get in touch for a confidential chat.
Gym at lunch or an appointment? We understand and value work life balance, and offer autonomy and flexibility to all our people.
Sabbatical
Holi-birthday
22 days+ holiday
Flexible working policy
Charity work
4pm Friday finish
We've got you covered! From a comprehensive health plan to learning and development, we want you to feel empowered to progress in your own way.
BUPA cash back
VHI cover
Discounted gym membership
Counselling
Fresh fruit
Healthy breakfast
Life insurance
Training
We love celebrating success together. We focus on integrating our specialist teams and regional offices by hosting various professional and social events throughout the year.
Friday bar tab
Christmas party
All company reviews
Team nights out
Summer parties
Trips abroad
Quarterly incentives
Our locations
Welcoming, motivating, flexible and fun! These are just some of the words used to describe what it's like to work at Marks Sattin, and our office locations echo this.
We operate across seven key co-working spaces in the UK and Ireland. Our London HQ is located in the beautiful Labs building in central Holborn. In Reading we work out of a Work.Life space in the renowned White Building with it's rooftop terrace and easy accessibility. In Surrey we are in the Regus building, a classy workspace.
Moving further north, our Leeds team have recently taken up occupancy in the new Spaces building on Park Row, a stone's throw from the city's hub. In Birmingham we are in Somerset House, centrally located and within walking distance of Birmingham New Street Station. Our Manchester and Dublin offices have taken residence in WeWork spaces, both at the heart of their business districts.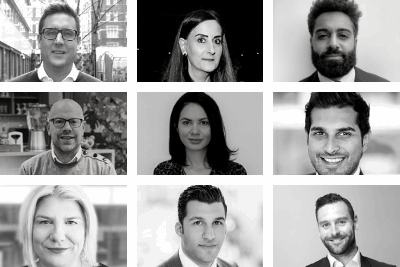 Meet our leadership team
Our people are what set us apart, and most of our leadership team have a long tenure with Marks Sattin, with the majority starting off as recruitment consultants, developing into directors and looking after multiple teams. Each person in our leadership team is unique with their own personal style, and we respect everyone's opinion and way of working. We aim to work collaboratively and learn from one another to continually develop and evolve.
If you would like to learn more about our leadership team - head over to our dedicated page.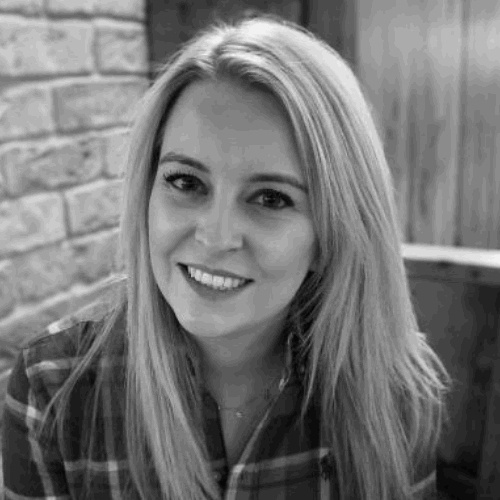 Karen Chilton, UK & Ireland Talent Manager
"After a career spanning nearly 8 years as a Consultant through to Manager, I decided to make a change and recruit for the business I love! I am responsible for sourcing and hiring the best in class talent for Marks Sattin offices across the UK and Ireland. Talk to me to find out what it's like to work for us and what we may have available for you."
posts
Hear from our people
Welcoming Anthony Mills, Principal Consultant in Birmingham!
Summary
In March 2021, Anthony Mills made the move to Marks Sattin Birmingham, after spending nine years at another recruitment company. Our Internal recruitment manager, Karen Chilton, chatted to Anthony about his career so far, what it's like joining a new company during a pandemic, and some of his most memorable moments in recruitment.  Anthony Mills Principal Consultant, Birmingham Contact Anthony Anthony, welcome to Marks Sattin! How are you settling in?What a start it has been! Although we are currently working remotely, everyone has taken the time to welcome me into the business. Luckily, with recruitment being a well-connected industry, I have either previously worked with, or met some of my colleagues in the past, so it has been pretty easy to settle in!How did you get into recruitment?Like most recruiters, by accident! However, my situation is a little different. My father had hopes of me becoming an accountant, and would often get me to help him with his business accounts. I studied accountancy as one of my subjects at A-level, and I studied accountancy & finance at degree level.However, I chose a career in business development and account management. In 2012, I decided to try mixing my business development and account management experience with my accountancy and finance studies to become a finance recruitment consultant, and I haven't looked back since. So, I guess I did somewhat get into accountancy as per my father's hopes, but in a weird sort of way!Tell us about your career so farI specialise in permanent and temporary positions across the West and East Midlands, primarily recruiting roles at the qualified level. My experience has allowed me to work with a range of companies, from FTSE 100/250 listed, multinational organisations, SME's, private equity and venture capitalist backed.However, over the past seven years most of my work has been in the interim and contracting space, partnering with clients to recommend effective and efficient interim solutions to meet their needs. As a result, I have been able to acquire a sizeable interim finance network that continues to grow to this day!What do you enjoy most about your role?I have to say that the feeling of placing somebody in their "dream job", and knowing that I have delivered a top class experience for my client is the best part of my work. I don't believe that feeling could ever go away. In recruitment, you get the opportunity to learn a lot about the people and businesses you support, and I have built some genuine long-lasting relationships and even some good friendships off the back of it.Do you have any work-related embarrassing tales for us?It was just after Christmas and I had gained a few extra pounds. We were attending an important client meeting to take the brief of several senior finance vacancies. The weather was awful, and there had been torrential rain all morning, so we decided to take a little jog to get there as quickly as possible. As I took a few paces, I heard a tear. I looked down to discover my suit trouser was ripped!Like a true professional, I had to soldier on and attend the meeting. Luckily, my trusted colleague was on hand to give me his jacket which I strategically dangled over my arm to hide my unfortunate accident. We won the pitch and recruited the vacancies within the team, without the client suspecting a thing, and I learned a valuable lesson, always have a suit one size up ready for the winter months, or just eat fewer donuts!  What swayed you to join Marks Sattin?The idea of being just a number has never interested me. I want to work for a business that invests in their people. Luckily, because I knew people who work at Marks Sattin, I had a good idea of what it would be like to work in the team. Ultimately, for me, the attraction was knowing that I could bring my skills and regional knowledge to a new business, and help the directors develop Marks Sattin's offering in the Midlands.  I knew I could add value and go on a journey with the business. Marks Sattin is already a leading recruitment consultancy with offices in Birmingham, London, Reading, Surrey, Manchester, Leeds and Dublin. The business has been established for almost 35 years, plus Marks Sattin is owned by Gi Group, a leading global recruitment conglomerate which operates in over 40 countries. Whilst some businesses in their position may be complacent, there is a lot of drive and ambition within the business, and I knew I needed to be a part of it. In your opinion, why is Marks Sattin different from other consultancies?Well, I've never known another recruitment consultancy that has a golf simulator for us to use at our leisure, a spacious gym with all the equipment, and an awesome rooftop bar in their offices.I would also say that Marks Sattin genuinely live by what they say about "being a mature business". Whilst commercial viability is central to any business, there isn't any micromanagement, and the consultants are trusted to work in a way that works best for us to bring the best results. It has also been extremely refreshing for me to see first-hand Marks Sattin's stance on diversity & inclusion across the Group. No matter your race/ethnicity, religion, gender, sexuality or disability – being fairly represented with equal opportunity and having your voice heard is critical to any successful organisation with a diverse workforce. I learned that Marks Sattin really take this seriously and their diversity & inclusion committee has representation from a variety of groups within the business to increase our awareness and education. Not only is this practice followed internally, Marks Sattin partner with a number of external clients to ensure D&I is at the centre of the recruitment process, allowing for fair representation and minimising unconscious biases. I am really proud to be a part of a business that champions diversity & inclusion! What advice would you give to any consultants who are considering a move after working with another consultancy for a long time, as you were?To move roles after nine years as a consistently high performing consultant was daunting. It was a big decision to move, given my length of service and having a "safe" job during an uncertain time, it was a complex decision to make. Unfortunately, my partner was made redundant as a result of the pandemic, meaning I became the sole earner, and we were also expecting our second child (who we welcomed on May 2nd 2021). For anybody considering a move after being with an employer for a considerable period of time. I think the first piece of advice that I would give is to have self-belief. The thought of change can be such a daunting thing, but it can also be the best thing that you ever did! Anthony mills | Principle consultant There are businesses out there, like Marks Sattin, that can work in a fluid way, meaning they can shift and adapt to meet the needs of their employees, whether it be flexible work from home/office working, part-time/full-time. At Marks Sattin, entrepreneurial flair is celebrated and ideas aren't dismissed before you've even finished your sentence. I would also advise that opening up an informal discussion with an agency doesn't mean that you are tied in to anything, but instead it can be used to gauge whether they could meet your long term goals; if not, then they are not the business for you.Finally, tell us something not many people know about you.As a sports enthusiast, I represented my Regional Athletics team, where I had the chance to meet the GB Athletics and the Jamaican Athletics Teams. I also had the opportunity to play a "Cup Final" game as a teen for my football team at the Birmingham City Football Ground. I shouldn't admit to that, being an Aston Villa fan!If you enjoyed reading Anthony's career story so far, and would like to learn more, check out our internal vacancies or contact me for a confidential chat about your career options with Marks Sattin.
Read full article
Marks Sattin Managing Director, Matt Wilcox, celebrates his 15 year anniversary
Summary
It's not every day an employee celebrates 15 years working with a company – and certainly not every day that employee is the Managing Director of the organisation! To recognise our MD's significant achievement, he wrote this piece about his career journey at Marks Sattin so far, how the recruitment industry has evolved, and his ambitions for Marks Sattin's future.  "Marks Sattin was referred to me by a friend, and I haven't looked back" I heard about Marks Sattin from a friend upon completing my business degree. I liked the sound of the company culture and was particularly keen on the idea of leaving Cheltenham for the bright lights of London. Despite having never considered a career in recruitment, I jumped at the chance to join Marks Sattin and started as a graduate, focusing on the part-qualified temporary market.  "Marks Sattin – and in particular the temporary market - is a great place for anyone wanting to start their career in recruitment" Despite taking the job largely as a way to get myself to London, I was soon embedded in the recruitment world. The part qualified temporary market was the perfect breeding ground for a successful career. The rapid pace and high volume of work taught me that you need a deep understanding of your market and the organisation to be able to operate with quality and at a high intensity, something I have carried on throughout my career.  My next move was to the qualified finance team, which I started managing after three years in the business, and within five years, I was Director for the London banking and financial services team and focusing personally on executive and interim roles. After identifying an opportunity to combine the interim and contract service offerings into one streamlined business area, I grew that side of the business before being appointed to Managing Director in 2016. "I've enjoyed rapid career progression at Marks Sattin" By my late 20's I was running a 40-person division, and I put my success down to a couple of factors: as a fast-growing business, Marks Sattin presented many opportunities for career development, particularly within the financial services and banking space, which was an underdeveloped practice at the time for Marks Sattin.  Furthermore, I was very focused and determined about where I wanted to get to. As a big rugby follower I have always seen the value in teamwork and camaraderie to get you through the good and the bad times, something that rugby ingrains in you from a young age. The Marks Sattin way is to promote based on execution and potential, not age or experience. If you deliver great results, uphold our values and have the ability to do more, we will always have a way of growing you and furthering your career. "I've made many long lasting friendships along the way" I always have, and still do have fun at work. We have a strong focus on company culture, and I have made friends for life throughout my time here so far. A good proportion of the current management team come from my early days with the company and two of my first team of three are still with the business today. I even met my wife Sarah through Marks Sattin! "The recruitment landscape has shifted dramatically in the last 15 years" One of the most significant changes I have seen is the move to more RPO models and direct hiring, plus the obvious technological transformation that has permeated every sector in the past decade. Technology has had both a positive and negative impact on recruitment, with more data available to inform choices and improve lines of communication, this definitely boosts accuracy and efficiency. However the downside of digital is that it can create laziness on all sides of the recruitment equation. The industry's best recruiters are still those out there building human relationships and making personal contact with candidates and clients, which is one of Marks Sattin's strengths as a brand and one of the reasons for my own personal success. Barriers to entering the recruitment industry are low, which means many agencies come and go, and the strongest surviving companies are those that are willing to evolve with technology while still retaining that personal touch and building relationships. "2019 was Marks Sattin's first year under new ownership" Marks Sattin was acquired by Gi Group in 2018, a move that has helped not just with the reach of our business, but also the services available. As well as leveraging each other's client portfolios, the acquisition has allowed us to be part of a truly global full-service HR and Staffing business, using Gi Group's expertise in executive coaching, training and career transition services to offer an end-to-end recruitment solution under one umbrella. With Marks Sattin now operating from seven different locations in Ireland and the UK, the scope of the business is much broader than the London-centric days of old, and the acquisition has certainly helped with this and will continue to support further growth both domestic and internationally. "There have been a lot of learning curves since I began my professional career" If I were to give a young professional some advice, (not that I'm very old!), I would say it's important not to be intimidated by someone's job title or seniority, even when you're just starting out with little experience. Being open, friendly and polite along with acting with honesty and integrity is generally an approach that works with everyone, and it has stood me in good stead throughout my career.   "2020 is a huge year for us, with even more growth expected" 2019 was a strong year for Marks Sattin and I predict that 2020 will be even bigger. We launched four new revenue streams last year (risk, compliance, internal audit and HR) and a new office location (Surrey), so this year we will focus on investing in these as well as looking at adjacent revenue streams to help grow the business. As always, we will invest in our people. I am committed to growing offices and introducing teams and business lines where the demand lies. There will also be a focus on relationship-led recruitment, building on from 2019 when we hosted or partnered on a whopping 30 events across our offices. This is only possible when you have committed sales teams to do the work on organising events for their clients and candidates, as well as a fantastic marketing and support team. "Our client base is unique and provides massive opportunities for us as a business" Marks Sattin is not a business that relies heavily on just one or two major clients, which is unique within recruitment. Our largest client accounts for less than 3% of our total revenue, this is a testament to our stability and presents further opportunity for growth with existing and new clients. "We know what we do is good, but we always want to improve" While Marks Sattin has experienced great success in recent years, it's important to always be evolving and look at ways to improve. We are proud that of our ten Directors, five are home grown graduates and across them the average tenure in the company is twelve and a half years, which makes us truly unique. Resisting the institutionalisation that can befall other recruitment companies we do also make a point of hiring from different backgrounds and businesses, gathering new ideas and trialling different ways of working. I have big ambitions to take our business to new heights, as a team anything is possible, and we'll support each other all the way. Interested in joining a forward-thinking, relationship-driven recruitment company that genuinely cares about its people? We'd love to hear from you. Find out more about careers with Marks Sattin or get in touch to start a conversation.                       
Read full article
Our Road to Success Initiative
Summary
At Marks Sattin we pride ourselves on supporting our people to be as successful as they can be. One way we do this is through our Road to Success initiative, which provides incentive for our new recruits who have between zero to three months experience in recruitment. The aim of this initiative is to encourage them to hit a billing target within their first two years and, in return, they receive £2,000 towards a holiday of their choice! A career in recruitment can be extremely rewarding and is one of the few industries where you are in control of your own earnings. We provide excellent training programmes for our new and inexperienced consultants, meaning you will receive the best in house training to help you fast track your career and get established in your specialist market. Some short stories from our previous winners: Denford Mukarati joined us in 2016 and is the first winner of our Road to Success initiative. He has consistently worked to hit his goals and continues to drive new business. Well done Denford - read his story here. Alex Simmons joined us in 2018 and is another winner of our Road to Success initiative. He is hardworking, likeable and is always pushing himself to hit personal and organisational goals. Congratulations on winning, Alex - read more of his story here. Nick Georgiou joined after leaving his role of an electrical apprentice in 2016, at the ripe age of 19, and never looked back! He is a committed team player, who believes strongly in the statement that "fear kills more dreams than failure ever will." Congratulations Nick - read more of his story.
Read full article